Writer: Haden Blackman
Cadet Laurita Tohm, a young man disfigured by burns on half his face, is with his class on Coruscant. They have come for the graduation cerermony from the Imperial Academy.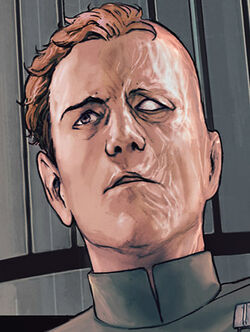 Laurita Tohm
Headmaster Gentis is in charge of the ceremony while Emperor Palpatine looks on.
Headmaster Gentis
Tohm is the valedictorian of the class and is awarded the position of lieutenant. He is assigned to Grand Moff Tarkin's secret project (the Death Star).
Gentis orders Ensigns Caul and Shens, Tohm's friends, to keep Tohm safe until Tarkin comes to pick him up.
Caul and Shens take Tohm to test fly a new Tie Fighter against regulations, but then lock him inside. They say it's to keep him safe.
Tohm doesn't know what they're talking about and determines to escape the Fighter before he gets caught and demoted or something. As he presses the emergency eject button, explosives go off all over the city.
When he lands, masked persons are battling the Imperial Stormtroopers. He takes command of a squadron and assists Darth Vader in battling the masked rebels. One of them, dying, turns out to be Shens, who begs Tohm to show his loyalty to Headmaster Gentis by killing the Emperor.